Admin Professionals Day is April 25th
When it's time to say THANK YOU to those who make your life easier, we're here to help!
Everything we send out for Administrative Professional's Day comes with a card that says,
"Happy Admin Professional's Day!
Your hard work is GREATLY appreciated!"
Once you have made your selection,
Add On....
a Bag of 6 Chocolate Dipped Strawberries for 12.95
or a Box of 13 for 25.95
OR
Box of Chocolates for 15.00.
So make your selection and count on us.
Our job is to make you look good!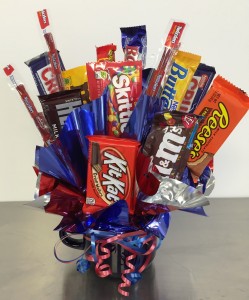 Chocolate is the Sweetest THANK YOU!!
Coffee Cup of Chocolate! 2 Gifts In ONE!
This THANK YOU if filled with 12 candy bars and 4 twizzlers in a ceramic coffee mug. Perfect way to let someone know how much you appreciate them.
$29.95
Shown at $29.95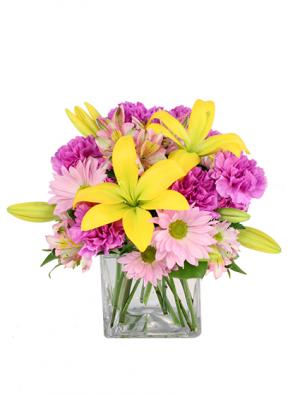 Spring Forward
Arrangement
Let them know spring is here with this bright bouquet of yellow lilies, lavender carnations, and daisy poms. Send this springtime treat to anyone who needs a reason to smile today!
$45.00, $55.00, $65.00
Shown at $45.00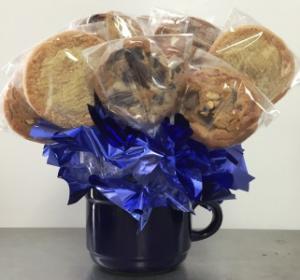 Gourmet Cookie Bouquet
NEW!! Soft, Thick and Chewy! We'll decorate them SPECIAL for V-Day!
Our Edible Designers decided our Cookie Bouquet needed MORE! Introducing our NEW Gourmet Cookie Bouquet! Soft, thick and chewy Peanut Butter, Sugar and Chocolate Chunk Gourmet Cookies WITH the perfect cookie dunking cup! Give someone a warm feeling on a cold day!
$25.00
Shown at $25.00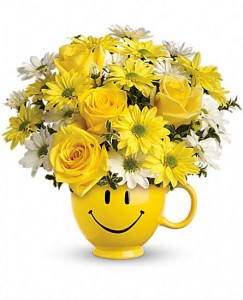 Be Happy Bouquet
Teleflora
When you're looking to make someone smile, this happy face mug of roses and daisies is tops. Sure to cheer up everyone from a beloved wife to a busy boss, these are also great flowers for kids.
$39.95, $49.95, $59.95
Shown at $49.95
Bushel Basket of Chocolate Strawberries
Please give us 24 hr notice
We put 23 yummy chocolate covered strawberries in this beautiful Teleflora Bushel Basket container. When the strawberries are gone this container still makes a nice decorative fall container for so many other uses.
$50.00
Shown at $50.00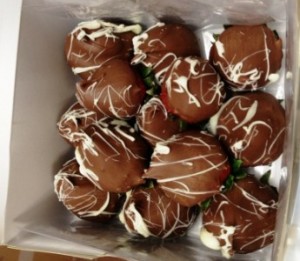 Box of Berries
13 Chocolate Dipped Strawberries!
Yes it's the bakers dozen of luscious strawberries dipped in chocolate!!! Then we box and decorate it for delivery along with your flowers!!!
$25.95
Shown at $25.95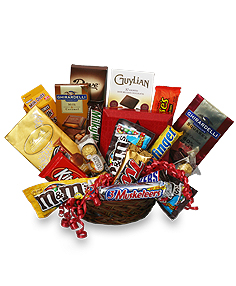 CHOCOLATE LOVERS' BASKET
Gift Basket
Surprise the sweet ones in your life with Candy and Flowers from FLOWERS BY MARY LOU INC. (Please remember that each selection is custom made and substitutions may be necessary. Your order will be produced as closely as possible to the picture.)
$35.00, $50.00, $65.00
Shown at $50.00