Get Well Flowers
The best part about our job is that we can create something that helps someone feel a little better.
Let us help you send get well wishes with gift baskets filled with your loved ones favorites or a beautiful bouquet of fresh flowers.
For little ones, we suggest a cuddly friend to stay by their side and everyone loves a balloon bouquet.

To make your gift more personalized, tell us about the recipient in the special instructions area!! What their favorite team or their favorite color? Hobbies? Military Service?
If you don't see what you are looking for, call us! We love making our designs special by learning more about the person we are sending them too!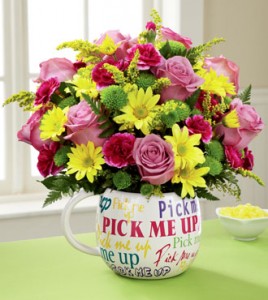 Pick Me Up Bouquet
Two Gifts In One!!!
This FTD Keepsake Over Sized Mug is colorful and sure to brighten anyone's day! Lavender roses, green poms, mini carnations and yellow daisy poms make this arrangement unforgettable and the keepsake mug will be a treasured gift.
$49.95, $59.95, $69.95
Shown at $69.95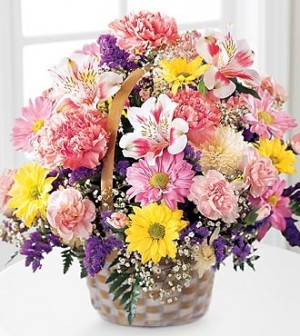 The FTD® Basket Of Cheer® Bouquet
This cheery basket is a welcome sight! Bright and fluffy pink carnations, lavender and yellow daisy pompons, with white and purple accents are arranged in a handled basket. It's the perfect gift for any occasion. Approx. 14H x 12W Your purchase includes a complimentary personalized gift message.
$44.00, $55.00, $65.00
Shown at $44.00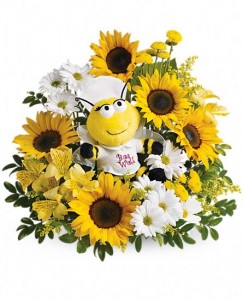 Bee Well
Teleflora
We have just the cure for what ails them. A plush nurse bee is ready to buzz into service with enough fresh flowers to make anyone perk up.
$49.95, $59.95, $69.95
Shown at $69.95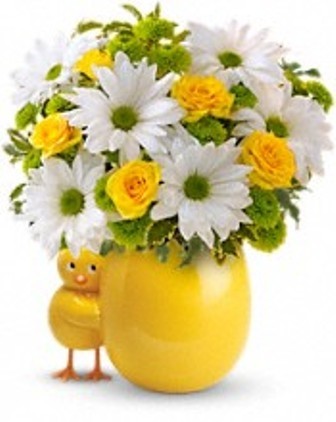 My Little Chickadee
Who Wouldn't Love This Teleflora Arrangement?
$44.95, $54.95, $64.95
Shown at $54.95
Shown at $54.95
Hospitals and Health Care Providers in Our Delivery Area:
---

Name
Address
Phone

---

A Mc Farland Mental Health Ctr
901 Southwind Dr Springfield, IL. 62703
(217) 786-6900
Adloff Place
50 Adloff Ln Springfield, IL. 62703
(217) 786-3109
Adult Day Treatment
200 W Lake Shore Dr, Springfield, IL. 62703
(217) 529-9775
Adult Nu-Care Home
325 N Lincoln Ave Springfield, IL. 62702
(217) 726-9231
Advanced Center For Pain And Rehab
2060 W Washington St, Springfield, IL. 62702
(217) 787-8200
Almost Magic
901 Clock Tower Dr, Springfield, IL. 62704
(217) 717-9783
Andrew S. Brown, Dc - Westside Pain Clinic
2700 W Lawrence Ave Ste J-4 Springfield, IL. 62704
(217) 546-6698
Associated Dermatologists
2951 Montvale Dr Ste B, Springfield, IL. 62704
(217) 726-6429
Bethesda Lutheran Home
1520 Hosta St, Springfield, IL. 62712
(217) 585-6832
Bethesda Lutheran Home
1100 S Pasfield St Springfield, IL. 62704
(217) 789-1960
Bickford House
2300 W White Oaks Dr Springfield, IL. 62704
(217) 787-9000
Bordignon Rita Harmony Center Massage Therapy
216 W Lawrence Ave, Springfield, IL. 62704
(217) 415-7970
Brenden Gardens Salon
900 Southwind Dr Springfield, IL. 62703
(217) 529-4586
Brother James Court
2500 Saint James Rd Springfield, IL. 62707
(217) 544-4876
Brown Podiatric Medical Centre
405 S Macarthur Blvd, Springfield, IL. 62704
(217) 787-9192
Capitol Healthcare Sc
2603 S 6th St, Springfield, IL. 62703
(217) 528-0307
Capitol Retirement Village
1800 S Dirksen Pkwy, Springfield, IL. 62703
(217) 527-1062
Catholic Charities-Clinic For-Kids
700 N 7th St, Springfield, IL. 62702
(217) 241-0214
Catholic Pastoral Center
1625 W Washington St, Springfield, IL. 62702
(217) 793-0515
Circle Rehabilitation Svc
1200 W Jefferson St # D, Springfield, IL. 62702
(217) 726-8502
Complete Care
5220 S 6th Street Rd Springfield, IL. 62703
(217) 529-0316
Concordia Village
4101 W Iles Ave Springfield, IL. 62707
(217) 793-8088
Concordia Village
4101 W Iles Ave, Springfield, IL. 62711
(217) 793-9429
Crisis Clinic
710 N 8th St, Springfield, IL. 62702
(217) 732-3600
Curtiss Court
2883 Taylor Ave Springfield, IL. 62703
(217) 585-1188
Doctors Hospital
Po Box 19254 Springfield, IL. 62794
(217) 529-7151
Dui Solutions & Treatment
925 S Spring St # B, Springfield, IL. 62704
(217) 528-1988
Fair Hills Residence At The Il
2005 W Lawrence Ave, Springfield, IL. 62704
(217) 546-5320
First Care Health Care Inc
924 Clock Tower Dr Ste B, Springfield, IL. 62704
(217) 718-4889
Fourth Street Clinic
2136 S Illini Rd, Springfield, IL. 62704
(217) 544-1027
Gaines Mill Place
3310 Gaines Mill Rd Springfield, IL. 62704
(217) 793-0074
Gambro Health Care Springfield Central
932 N Rutledge St, Springfield, IL. 62702
(217) 788-3688
Gateway Foundation Inc
2200 Lake Victoria Dr, Springfield, IL. 62703
(217) 529-9266
Genetic Consultants Of Springfield
112 Rickard Rd Suite B, Springfield, IL. 62704
(888) 537-8612
Glenwood Terrace
2724 S Glenwood Ave Springfield, IL. 62704
(217) 523-0168
Golden Senior Care
2840 Route 29 Springfield, IL. 62707
(217) 787-1303
Healthcare Horizons Ltd
827 S 5th St Springfield, IL. 62703
(217) 528-0044
Heart 4 Heart Inc
2924 N Dirksen Pkwy, Springfield, IL. 62702
(217) 544-2699
Heartland Naprapathic Ctr
907 Clock Tower Dr, Springfield, IL. 62704
(217) 726-5400
Heritage Manor
900 N Rutledge St Springfield, IL. 62702
(217) 789-0930
Home Health Center Hooks
3031 S Dirksen Pkwy, Springfield, IL. 62703
(217) 529-0167
Homestead At Montvale
2801 Montaluma Dr Springfield, IL. 62704
(217) 698-9600
Homestead Place
4305 W Washington St Springfield, IL. 62707
(217) 787-3009
Hospice-Care Of Sangamon County
319 E Madison St Ste 3n, Springfield, IL. 62701
(217) 241-2454
I Care Long-Term Care Ombudsman Program
620 N Walnut St, Springfield, IL. 62702
(217) 523-8419
Illinois Health Care Association
1 Convention Center Plz, Springfield, IL. 62701
(217) 528-3173
Illinois Homecare And Hospice Council
100 East Washington Street Springfield, IL. 62701
(217) 753-4422
Illinois Institute For Addiction Recovery
3050 Montvale Dr Ste 137, Springfield, IL. 62704
(217) 726-6611
Illinois Municipal Retirement Fund
2147 S Walnut St, Springfield, IL. 62704
(217) 527-8916
Illinois Presbyterian Home
2005 W Lawrence Ave Springfield, IL. 62704
(217) 546-5622
Interim Health Care
400 Chatham Rd # 301, Springfield, IL. 62704
(217) 793-3650
Isles Oxford House For Men
1824 S 4th St, Springfield, IL. 62703
(217) 492-1409
King's Daughter's Home-Women
541 E Black Ave Springfield, IL. 62702
(217) 544-5114
Koke Mill Medical Assoc
3132 Old Jacksonville Rd # 200, Springfield, IL. 62704
(217) 862-0806
Koke Mill Medical Ctr
3132 Old Jacksonville Rd # 200, Springfield, IL. 62704
(217) 862-0800
Lewis Memorial Christian Vlg
3400 W Washington St Springfield, IL. 62707
(217) 787-9600
Life Services Network-Illinois
2 Lawrence Sq Springfield, IL. 62704
(217) 789-1677
Limography Center At Memorial Medical Center
Limography Center At Memoria, Springfield, IL. 62701
(217) 788-3030
Link, Matt, Dc - Link Chiropractic
7012 Kingsmill Ct, Springfield, IL. 62711
(217) 679-4670
Mary Bryant Home For The Blind
2960 Stanton St Springfield, IL. 62703
(217) 529-1611
Mccaffrey Family Health Center
1039 Wabash Ave Ste 100, Springfield, IL. 62704
(217) 726-0151
Memorial Dept Of Radiology
701 N 1st St Springfield, IL. 62702
(217) 788-3200
Memorial Home Services
720 N Bond St, Springfield, IL. 62702
(217) 788-4113
Memorial Medical Ctr
701 N 1st St Springfield, IL. 62702
(217) 788-3000
Memorial Medical Ctr
301 N 8th St, Springfield, IL. 62701
(217) 528-3210
Memorial Outpatient Rehab
3132 Old Jacksonville Rd, Springfield, IL. 62704
(217) 862-0444
Mental Health Centers Of Central Illinois
710 N 8th St, Springfield, IL. 62702
(217) 525-1064
Midwest Nursing Home Management Center
2120 W Washington St, Springfield, IL. 62702
(217) 793-4890
Midwest Rehabilitation
1301 South Koke Mill Road Springfield, IL. 62711
(217) 547-9108
Mill Creek- Alzheimer's Special Care Center
3319 Ginger Creek Dr, Springfield, IL. 62711
(217) 726-7900
Moha
775 Engineering Ave, Springfield, IL. 62703
(217) 528-7541
Montvale Estates
2601 Montvale Dr Springfield, IL. 62704
(217) 546-5577
Nursing Home Managers Inc
2653 W Lawrence Ave Ste B, Springfield, IL. 62704
(217) 787-8530
Oak Terrace Active Retirement
1700 W Washington St Springfield, IL. 62702
(217) 793-0431
Oak Terrace Health Care Ctr
1750 W Washington St Springfield, IL. 62702
(217) 787-6466
Ocular Prosthetic Clinic
2020 W Iles Ave, Springfield, IL. 62704
(217) 698-4729
One On One Fitness
1650 Wabash Ave, Springfield, IL. 62704
(217) 787-2980
Prevention First Inc
2800 Montvale Dr, Springfield, IL. 62704
(217) 726-7390
Psychiatric Assoc Of Central Illinois
1124 S 6th St, Springfield, IL. 62703
(888) 592-8817
Regency
2120 W Washington St Springfield, IL. 62702
(217) 793-4880
River Birch Senior Living
4012 Cockrell Lane, Springfield, IL. 62711
(217) 547-0400
River Hills Village Assisted Living
20 Villa Grv, Springfield, IL. 62712
(217) 524-5772
Sacred Heart Convent
1237 W Monroe St Springfield, IL. 62704
(217) 787-0481
Sangamon County Department Of Public Health
2833 S Grand Ave E, Springfield, IL. 62703
(217) 535-3100
Senior Living
2924 N Dirksen Pkwy Springfield, IL. 62702
(217) 527-8944
Siu Audiology Clinic
747 N Rutledge St, Springfield, IL. 62702
(217) 545-6099
Solutions Counseling & Dui Services
1306 S 6th St, Springfield, IL. 62703
(217) 757-0000
Spine & Extremity Clinics
536 N Bruns Ln Ste 3, Springfield, IL. 62702
(217) 546-5554
Springfield Clinic
3180 Adloff Ln Ste 408, Springfield, IL. 62703
(217) 241-8190
Springfield Clinic
1937 W Iles Ave, Springfield, IL. 62704
(217) 726-1299
Springfield Clinic/midwest Occupational Health
334 N 2nd St, Springfield, IL. 62702
(217) 522-4300
Springfield Health Care
2800 W Lawrence Ave Springfield, IL. 62704
(217) 787-1955
Springfield Priority Care
1836 S Macarthur Blvd, Springfield, IL. 62704
(217) 789-1403
Springfield Supportive Living
2034 E Clear Lake Ave, Springfield, IL. 62703
(217) 522-8843
Springfield Terrace
525 S Martin Luther King Jr Dr Springfield, IL. 62703
(217) 789-1680
St Clare's Health Clinic
700 N 7th St, Springfield, IL. 62702
(217) 523-1474
St John's Emergency Dept
800 E Carpenter St Springfield, IL. 62702
(217) 753-3330
St John's Hospital
415 N 9th St Springfield, IL. 62702
(217) 535-3995
St John's Hospital
800 E Carpenter St Springfield, IL. 62769
(217) 544-6464
St John's Hospital
301 N 9th St Springfield, IL. 62701
(217) 535-3795
St Johns Hospital Employee Svc
301 N 8th St # 4b143 Springfield, IL. 62701
(217) 744-2255
St Joseph's Home-Springfield
3306 S 6th Street Rd Springfield, IL. 62703
(217) 529-5596
Tasc Inc
3 W Old State Capitol Plz Ste 8, Springfield, IL. 62701
(217) 544-0842
Taylor House
3021 Taylor Ave Springfield, IL. 62703
(217) 529-2053
The Chiropractors Springfield
993 Clock Tower Dr, Springfield, IL. 62704
(217) 726-0422
Triangle Center
948 Clock Tower Dr, Springfield, IL. 62704
(217) 726-6781
Triangle Center
120 North 11th Street, Springfield, IL. 62703
(217) 544-9858
Veterans Affairs Dept Of Va Base Outpatient Clinic
5890 S 6th Street Rd, Springfield, IL. 62703
(217) 529-5046
Walnut Ridge Healthcare Ctr
555 W Carpenter St Springfield, IL. 62702
(217) 525-1880
Weber House
2520 Saint James Rd Springfield, IL. 62707
(217) 522-8406
Westabbe Healthcare
2301 W Monroe St Springfield, IL. 62704
(217) 546-0272
Golden Senior Care
1100 Juniper Pl Chatham, IL. 62629
(217) 483-6225
D-Marr-D Retirement Apartments
401 S Oak St New Berlin, IL. 62670
(217) 488-7215
Villa Health Care East
Po Box 109 Sherman, IL. 62684
(217) 744-2299
Villa Health Care West
100 Stardust Dr Sherman, IL. 62684
(217) 744-9891