Plants
All our plants are designed in a nice basket with a bow and a few silk flowers.
Plants liven up the room and are wonderfully enduring gifts that show how much you care anytime of year! We can help you choose the perfect indoor plant variety for anyone or any occasion. With just a little TLC, your gift of live plants can flourish and bring continued enjoyment year after year.
Send a living message today!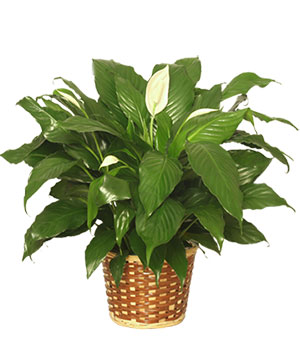 PEACE LILY PLANT
Spathiphyllum clevelandii
The Peace Lily is just one of many green plants available in 6", 8" and 10" pots. Plants vary in size throughout the year. Please call one of our plant experts for assistance in choosing a green plant that will be right for the occasion.
More Info